Your time here at the International English Programs is much more than just studying! Make the most out of your time here. Here are a few services we offer as part of the program.
IEP students can choose to live in the New College Residence while attending the International English Program. This is a unique opportunity to live with classmates from all around the world, practice English, and become part of the community!
The New College Residence is a dormitory-style accommodation, located at the University of Toronto's St. George Campus, in the middle of downtown. The residence is in walking distance of many great places, and local transit is conveniently accessible.
All IEP students will be assigned a single room in residence. Please note that residence accommodation is limited and cannot be guaranteed.
Your room:
Bed + Linens
Desk + Chair
Wardrobe + Mirror

Bookshelf + Reading Light

Wi-Fi Access
Large Window
Your Residence:
24/7 Front Desk Staff
Night Security Guard
Common Rooms with Televisions
Common Kitchens with Fridge, Microwave, Stove, and Oven
Air-Conditioned Rooms
Key Access into Residence Building
High Speed Internet (Wi-Fi)
Shared Bathroom with Private Showers
Coin-Operated Laundry Facilities

$1 to Wash
$1 to Dry
Free Laundry Soap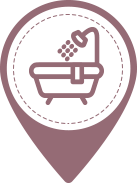 Residence Bathrooms & Showers
There are several, shared, gender-specific bathrooms on each residence floor. Each bathroom includes private showers. The water used in the bathrooms is clean and safe to drink.
COMPUTER ACCESS
Students will have access to New College's Computer Lab which is equipped with 30 high-speed computer stations. High-speed internet connection is also available in each residence room, but students must provide a personal laptop computer.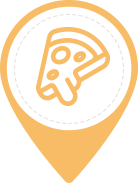 Food
The Audrey Taylor Dining Hall is a central place to enjoy all of your meals. This residence dining hall will provide daily all-you-can-eat meals such as roast chicken, vegetable stir-fry, and many other delicious items from a variety of stations.
The Dining Hall will also provide a wide variety of fresh fruits and vegetables, a salad bar, drinks, daily soup selections, and a dessert and ice cream bar. Vegetarian and vegan options will always be available.
Meal Plans
We offer the following meal plans:
Breakfast Only
Breakfast and Lunch
Breakfast, Lunch and Dinner
You can purchase a meal plan with your registration on the application form. Please note that meal plans are non-refundable upon your arrival at the program.
Please note that our food facilities are not nut-free. While we can accommodate most allergy and dietary restrictions, we cannot accommodate exceptional cases. If you have any questions or concerns, please contact our office at summeracademy@utoronto.ca. 
Week 1
Week 2
Week 3
Week 4