The Youth International English Program offers an exciting and enriching experience for students seeking to improve their English, experience Canadian culture, and enjoy their summer in Canada. Students in the Youth IEP will have a schedule filled with enriching classes, fun activities, and unforgettable excursions to some of Canada's most incredible tourist attractions.
All Youth IEP students will live at New College Residence. This is a unique opportunity for students to live with their classmates from all around the world, learn about different cultures, practice communicating in English, and become a part of the community!
The New College Residence is a safe and secure dormitory-style accommodation, located at the University of Toronto's St. George Campus, in the middle of downtown. Students will be within walking distance of many great famous Toronto neighborhoods, shopping centers, and sites that we will visit during activities.
The dormitory-style living facilities offer each student a comfortable and air-conditioned room with high-speed internet access. Students are assigned to single and double rooms based on availability. We do accept rooming requests, but cannot guarantee that we will be able to accommodate them.
EACH ROOM HAS:
Window
Single Bed with Linens
Desk with Chair
Wardrobe with Full-Length Mirror
High Speed Internet Connection
Swipe Card Access
Residence Features:
24/7 Front Desk Staff
Night Security Guard
Common Rooms with Televisions
Common Kitchens with Fridge, Microwave, Stove, and Oven
Air-Conditioned Rooms
Key Access into Residence Building
High Speed Internet (Wi-Fi)
Shared Bathroom with Private Showers
Coin-Operated Laundry Facilities

$1 to Wash
$1 to Dry
Free Laundry Soap
Residence Security
Upon check-in at the New College Residence, you will receive your own room key. This key will give you access not only to your room, but also to the residence building, the elevators, and your floor. All residence floors in New College requires key access and this ensures that only residents and staff have access. Overnight, the whole building is locked and require key access.
COMPUTER ACCESS
Students will have access to New College's Computer Lab which is equipped with 30 high speed computer stations. High-speed internet connection is also available in each residence room, but students must provide a personal laptop computer.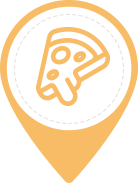 Food
The Audrey Taylor Dining Hall provides students with a comfortable dining area to enjoy our "all-you-can-eat" menu. Students can watch as professional chefs prepare delicious daily entrees at the Pizzarette, Grille, Chef Table, and Vegetarian stations.
Students also have unlimited access to a wide variety of fresh fruits and vegetables, salad bar, drinks, daily soup selections, and the dessert and ice-cream bar.
Please note that our food facilities are not nut-free. While we can accommodate most allergy and dietary restrictions, we cannot accommodate exceptional cases. If you have any questions or concerns, please contact our office at summeracademy@utoronto.ca. 
Cultural activities are led by enthusiastic Canadian university students who act as counsellors and ensure the safety of all students. Our counsellors are responsible for supervising the students on all trips and activities.
Counsellors live in the residence with the students and are available in the case of an emergency. Every evening, counsellors perform "on-call" duties to ensure that students adhere to curfew time and have someone to contact in case of an overnight emergency.
In the unlikely event of a medical emergency, they will accompany your child to one of Toronto's hospitals, many of which are located near the campus.
Afternoon Clubs
Clubs are engaging, counsellor-led activities for students registered only in morning classes. Clubs are a fun way to meet new people and learn new skills. Each club will meet regularly throughout camp allowing students to work on a project in their area of interest.

Arts & Crafts
This workshop is an opportunity for creative self-expression. This workshop will let campers explore how they express themselves through art and showcase their work at camp.
The club could include:
Painting · Drawing · Braiding · Writing · Crafting · Sewing

Cuisine
This club allows campers to share and communicate elements of their culture and cuisine through food. Counsellors will guide campers through food safety and basics of following a recipe, meal prep, baking, cooking, and proper use of kitchen tools. This workshop introduces campers to important and useful skills while sharing flavours and tastes from home.
The club could include:
Baking · Cooking · Food Safety · Following a Recipe · Meal Preparation

Music & Performance
This club provides a space for our campers to organize and perform for their community. This is a great workshop for campers to have fun while expressing their musical and rhythmic creativity. Students will also have a chance to put together a Talent Night performance that blend live-music and dance.
The club could include:
Singing · Playing an Instrument · Various Forms of Dance · Choreography

Media
Media is great way to both show off our own culture and learn about others. Our counsellors will work with campers to produce media about their time at camp and the world they are being exposed to with things like videography and photography. This is a great workshop for campers to show off their social media skills and create the photos and videos that we can all remember the summer by!
The club could include:
Videography · Photography · Collages · Camp Newsletter · Social Media · Digital Responsibility

INTRAMURAL & ORGANIZED SPORTS
This club is for our campers interested in athletics, teamwork, and sportmanship. Campers who like team sports, trying new things, competition, and including others will love this workshop.
The club could include:
Football (Soccer) · Basketball · Being a Team Player · Organizing Sports · Leadership · Refereeing
After class, students will participate in activities that provide an introduction to Canada's distinct culture and way of life. The itinerary offers opportunities to practice speaking English and make new friends with a variety of afternoon activities, evening events, and weekend trips throughout Toronto
Afternoon Activities, which are offered to students registered only in morning courses, include visits to historic and cultural sites as well as a variety of sports, shopping, and clubs (please see: Afternoon clubs)
Evening Activities include visiting many of Toronto's most popular destinations including: the Rogers Centre for a professional baseball game, the Art Gallery of Ontario, the Royal Ontario Museum, a boat cruise on Lake Ontario, and North America's tallest freestanding structure – the CN Tower. Students also enjoy on-campus activities such as Wildcard Night and Talent Night.
Weekend Trips allow students to relax and enjoy Canada's culture and geography with trips to the Toronto Zoo, Canada's Wonderland – one of North America's premier amusement parks, and an unforgettable boat ride to the base of Niagara Falls.
Week 1
Week 2
Week 3
Week 4