The Pre-University Programs offer an exciting and enriching experience for international and domestic students seeking to enhance their academic abilities, experience the University of Toronto's culture, and enjoy their summer in Toronto. Students will have a schedule filled with enriching classes, fun activities, and unforgettable excursions to some of Canada's most incredible tourist attractions.
All Pre-U students will live at New College Residence. This is a unique opportunity for students to live with their classmates from all around the world, learn about different cultures, practice communicating in English, and become a part of the community!
The New College Residence is a safe and secure dormitory-style accommodation, located at the University of Toronto's St. George Campus, in the middle of downtown. Students will be within walking distance of many great famous Toronto neighborhoods, shopping centers, and sites that we will visit during activities.
The dormitory-style living facilities offer each student a comfortable and air-conditioned room with high-speed internet access. Students are assigned to single and double rooms based on availability. While we do accept rooming requests, we cannot guarantee that we will be able to accommodate them.
EACH ROOM HAS:
Window
Single Bed with Linens
Desk with Chair
Wardrobe with Full-Length Mirror
High Speed Internet Connection
Swipe Card Access
Residence Features:
24/7 Front Desk Staff
Night Security Guard
Common Rooms with Televisions
Common Kitchens with Fridge, Microwave, Stove, and Oven
Air-Conditioned Rooms
Key Access into Residence Building
High Speed Internet (Wi-Fi)
Shared Bathroom with Private Showers
Coin-Operated Laundry Facilities

$1 to Wash
$1 to Dry
Free Laundry Soap
Residence Security
Upon check-in at the New College Residence, each student will receive their own room key. This key will give students access not only to their room, but also to the residence building, the elevators, and their floor. All residence floors in New College requires key access and this ensures that only residents and staff have access. Overnight, the whole building is locked and require key access.
COMPUTER ACCESS
Students will have access to New College's Computer Lab which is equipped with 30 high speed computer stations. High-speed internet connection is also available in each residence room, but students must provide a personal laptop computer.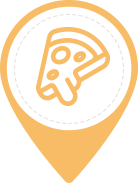 Food
The Audrey Taylor Dining Hall provides students with a comfortable dining area to enjoy our "all-you-can-eat" menu. Students can watch as professional chefs prepare delicious daily entrees at the Pizzarette, Grille, Chef Table, and Vegetarian stations.
Students also have unlimited access to a wide variety of fresh fruits and vegetables, salad bar, drinks, daily soup selections, and the dessert and ice-cream bar.
Please note that our food facilities are not nut-free. While we can accommodate most allergy and dietary restrictions, we cannot accommodate exceptional cases. If you have any questions or concerns, please contact our office at summeracademy@utoronto.ca. 
Cultural activities are led by enthusiastic Canadian university students who act as counsellors and ensure the safety of all students. These counsellors are responsible for supervising the students on all trips and activities.
Counsellors are leaders, mentors, facilitators, coaches, and friends! They live in the residence with students and will be there for whatever they need. Our devoted team works all hours, including nighttime, to make sure everyone is safe, happy and getting some sleep. Every evening, counsellors perform "on-call" duties to ensure that students obey curfew time and have someone to contact in case of an overnight emergency.
HEALTH INSURANCE
Health Insurance is already included in the program fee, and will cover potential medical visits, prescriptions or any other medical costs. Any claims will be handled by the International Programs Office. For detailed information on what medical coverage is provided, please contact the International Programs Office or visit www.guard.me.
Activities
Throughout the program, a variety of evening events and weekend trips are organized for students by the International Programs staff. From Toronto's many distinguished art galleries and museums, to its fashionable shopping districts and eclectic neighbourhoods and restaurants, the city's diversity makes Toronto an ideal destination for all visitors.
For more information about activities and a sample activity itinerary, please see the Activities section below.