Happy International Women's Day! As a global day of recognition and celebration of all women's achievements, we'd like to acknowledge all the amazing women in our community and the positive impact and contribution they bring to the university and beyond.  
We'd also like to take this opportunity to highlight one of our outstanding female staff leaders, and the longest-standing female staff member at the International Programs Office. Lily Kwiatkowski has been with the programs for almost 20 years and we'd like to take this time to acknowledge her achievements and milestones and thank her for all she has achieved.  
Lily first joined the International Programs community in 2002 as a Counsellor for our youth outreach and enrichment programs and joined the administration office full time shortly after. She stepped into her current role of Assistant Director in 2015 and since then has advocated for IFP students at the university, enhanced student services, and provided more efficient support systems; she has achieved this all while raising two young children at home.  
Additionally, Lily was part of the core team that developed the International Foundation Program (IFP) which has supported many international students transition into their full undergraduate studies since 2009. She has since guided the program to grow – a program that first launched with 61 students is now a program with an average size of 250-300 students per cohort, with 4 faculties at the university. 
This year was a challenge for many of us around the world. Lily took this opportunity to encourage her team to find innovative ways to connect and support students, despite most of our students being on the other side of the world. She has also started an initiative to provide more support to parents and families and acknowledging that this is as much of a transition to them as it is to their children.  
Lily has not only been a tremendous advocate for students but an extremely thoughtful leader for the International Programs community. She has continued to inspire and support her team to pursue new initiatives, cultivate an inclusive work environment, and encourage everyone to prioritize their self-care. 
We've asked Lily some questions as we reflect during this day – see what she has to say below! 
What is your favourite thing about working at the International Programs?
Like many who work within our office, I would have to say the people. My colleagues who truly believe in the programs we offer and constantly strive to deliver high-quality programs and services. We are a collaborative team that genuinely enjoys working with each other. And of course, the students from around the world who come to the University to improve their English and study. I love their excitement and seeing how they grow from being a little unsure and timid to confident students who embrace learning and new challenges.
Almost 20 years! Do you have a favourite or most memorable moment from all these years?
My first summer working as a counselor was pretty memorable as it was the first time I worked with international students from around the world and as an immigrant myself was really able to connect and understand them. Their courage to travel alone to Canada to pursue their dreams of learning English and their openness to learn about different cultures inspired me. It gave me direction to continue on this career path of working with International students.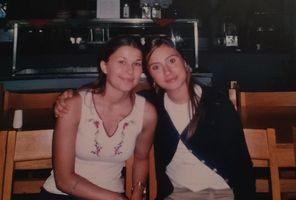 Were there any strong women that inspired you along the way? 
I am surrounded by strong women and inspired by them every day; women who are constantly pushing for change and to be better in every aspect of their lives; by women who balance family and their career. They seem to do it so flawlessly, but I know it requires so much work, dedication, support, and compassion for yourself.
But one strong woman that comes to mind is my grade 4 and grade 5 teacher (yep, had for both years). Her love of teaching and for her students was obvious. I had been in Canada for just over 3 years and still grasping the English language. She gave me my first English language chapter book, a Babysitter Club book, and sparked my love of reading. She pushed me to read more and become a better student. I am confident that she had a big role in putting me on my academic path, to study at the University of Toronto, which lead me to work here now and hopefully inspire students on their academic journey!
Thank you, Lily, for being the amazing person that you are and keep inspiring those around you. We look forward to what you'll do next!