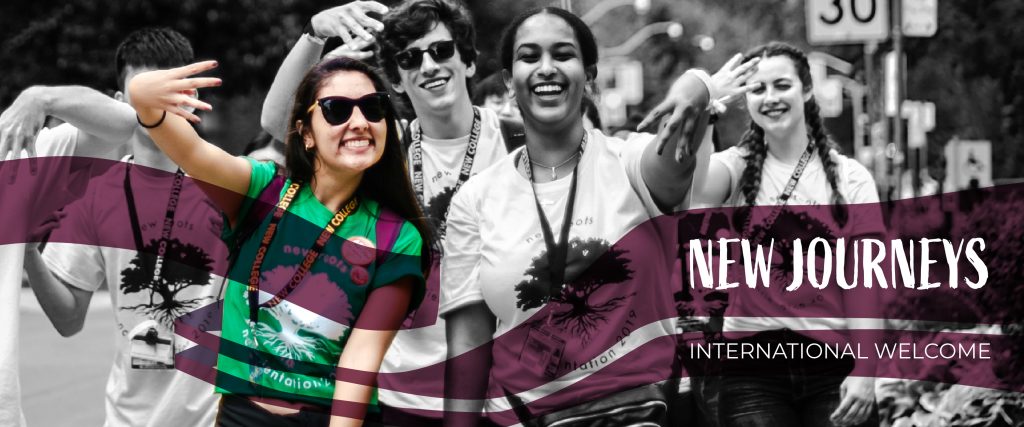 Dates: August 17, 2020 – August 28, 2020
This program is for incoming international New College students. 
New Journeys: International Welcome is a program specifically designed to meet incoming International Foundations Program and New College international students' unique needs and concerns. By attending New Journeys, students will have the opportunity to get a head start as they enter this exciting new chapter of their lives at New College and the University of Toronto.  
This program strives to prepare students for what is ahead, connect students to meaningful communities and resources, and support students through this academic and personal transition.   
We've tailored the program so that it can be attended online. We hope to meet you at the program and we look forward to welcoming you as you begin your New Journey at New College! 
Click on the boxes below for the time and more information about each session.
Please note that all times are in Eastern Daylight Time (EDT). 
Welcome to New College
Monday, August 17th
Life in Canada
Tuesday, August 18
Live Session: 9:00 AM – 10:00 AM (EDT)
We understand that your first few months as a student is not only about transitioning to U of T, but also about transitioning into your new life in Canada. This session will give you an introduction to living in Canada, including social norms, laws and regulations, weather, and opportunities.  
Academics at U of T
Wednesday, August 19
Live Session 1: 8:00 AM – 9:00 AM (EDT)
Live Session 2: 2:00 PM – 3:00 PM (EDT)
This session, led by Dr. Alexandra Guerson, will guide you on student expectations around courses, participation, academic integrity, and other academic norms at U of T. You will have a better understanding on what to expect and start your first semester here at U of T with confidence.  
Financial Literacy 101
Thursday, August 20
Live Session: 9:00AM – 10:00AM (EDT)
Setting up a bank account in a new country can be overwhelming. So we're bringing in experts from the Royal Bank of Canada to help explain the different types of bank accounts available to international students and the uses and purposes of having a Canadian bank account. They will also guide you on what budgeting and financing your undergraduate years can look like.  
Understanding Your Visa and UHIP
Friday, August 21
Live Session 1: 8:00 AM – 9:00 AM (EDT)
Live Session 2: 2:00 PM – 3:00 PM (EDT)
We've invited the advisors at the Centre for International Experience (CIE) to cover everything you need to know about your study permit and your University Health Insurance Plan (UHIP). This will be crucial information for your time at U of T.  
Meet Your Head Peer Leader!
Monday, August 24
Live Session: 9:00AM – 10:00AM (EDT)
This session will introduce you to a key support in your first year and beyond, New College Head Peer Leaders. These U of T student leaders are here to support you in and throughout your undergraduate journey. Students will be able to meet with their Head Peer Leader and learn about how to get involved in the SPROUT Mentorship program. 
Life at U of T - Panel
Tuesday, August 25
Video on Presence at 9 AM (EDT)
This panel will bring together current and former IFP and International students to answer your questions and share their experiences and lessons that they've learned throughout their time at U of T. 
Virtual Amazing Race
Wednesday, August 26
Live Session: 9:00AM – 10:00AM (EDT)
Work with your teammates in an epic Amazing Race around U of T's St. George campus! You'll be placed in a team where you need to solve riddles and puzzles to help guide your Toronto runner to the next key campus landmark. Whichever team gets to the destination first wins!  
Why Should I Get Involved?
Thursday, August 27
Video on Presence at 9 AM (EDT)
In this student panel, you will hear from upper year student leaders from various campus organizations, talking about how and why they personally got involved during their first year, what they have gained from their involvement, and details of the work from their student organization 
What's Next?
Friday, August 28
Live Session: 9:00AM – 10:00AM (EDT)
To register, click on the button below. You will have to login using your JOINid or UTORid. If you are having any issues registering, please email
new.studentlife@utoronto.ca
with your UTORid and UofT email.
Follow the IFP team on Instagram at @ifp_life and the New College Office of Residence & Student Life at @lifeatnew. We'll also be posting updates there!