5 Ways Learning Online might just be better
An IFP Perspective

Whether your courses blend online and in-person content or whether they are 100% online, you may feel that it's just never as good as in a face-to-face classroom. You might think that it's more difficult or even boring. Don't subscribe to that thinking! Consider these 5 ways that learning online can work for your studies and might just be better than in-person only.
1 | There are specific ways to teach and learn online. We know them.
Almost all types of education switched very quickly to online platforms last year, so many were unprepared. Since then, we've listened to experts in online teaching, done training, and learned how teaching and learning online is different than in a classroom. Our programs aren't just online versions of in-person courses. We've designed new materials and assignments that use online tools effectively in ways we can't in-person. For other curriculum, we've examined our content and adapted older ways to make your learning experience online more engaging than before. We also recognize that it might seem like a big challenge to do a university program online. Learning isn't the same as in person; that's clear. We help guide you through the online experience gradually and know many strategies to help make it easier for you to learn.
"Our programs aren't just online versions of in-person courses. We've designed new materials and assignments that use online tools effectively in ways we can't in-person."
2 | Connecting with your instructor is faster and more convenient.
On campus, you see your instructors during class and can ask questions there, but many times another course will starts only 10 minutes in the same room. You may also book office hour appointments outside of class, but you have to get to campus, find your instructor, and take notes of what you've talked about. With online options, these issues disappear. Office hours online mean you can attend from home (no more commute or excuses for being late!); you can record the session with permission from your instructor; and if your topics are sensitive, the online space isn't in a public area, so no worries about others hearing you. Beyond office hours, most courses have a Q&A discussion board online that all classmates can ask questions at any time and the answers are written down, so no more chances to remember the wrong information.
3 | Collaborative work and discussions can happen too.
Sure, being in-person means you can see your classmates and instructor from head to toe. You can also work as a pair or discuss course concepts in groups. That can seem less likely in an online course, but it's not. In fact, in some ways it can be more natural when we're using our mobile devices anyway. Once we establish good practice about how to use our online tools, it's actually pretty engaging to do collaborative work with classmates. Instructors use breakout rooms to easily put people into groups (so actually, you will probably talk to more classmates than if you just talk to the person sitting next to you in class and you don't have to awkwardly find a way to sit in circles with chairs and tables). Also, you and classmates can work on a shared document live while talking about it together without having to balance your device and papers on small classroom desks.
4 | All skills get practice and improve. Yes, even speaking!
It may seem like you'll just sit in front of your computer and watch a lecture. That might be the story you hear from older friends who attended their own university courses online over the past year. Sure, there's some of that naturally: that includes listening and note-taking skills, which we do in person too. But the goal of our courses is to give your practice in all skills so you can be successful in all types of university courses: online, in-person, and combination. Our online classes keep you engaged in the content and with each other throughout the class time. These include chat box discussions, activities that use online tools outside the basic video and Zoom functions, and of course, a lot of time in breakout rooms with your classmates to practice speaking skills in interesting, academic conversations. You won't be sitting passively for hours, that's for sure.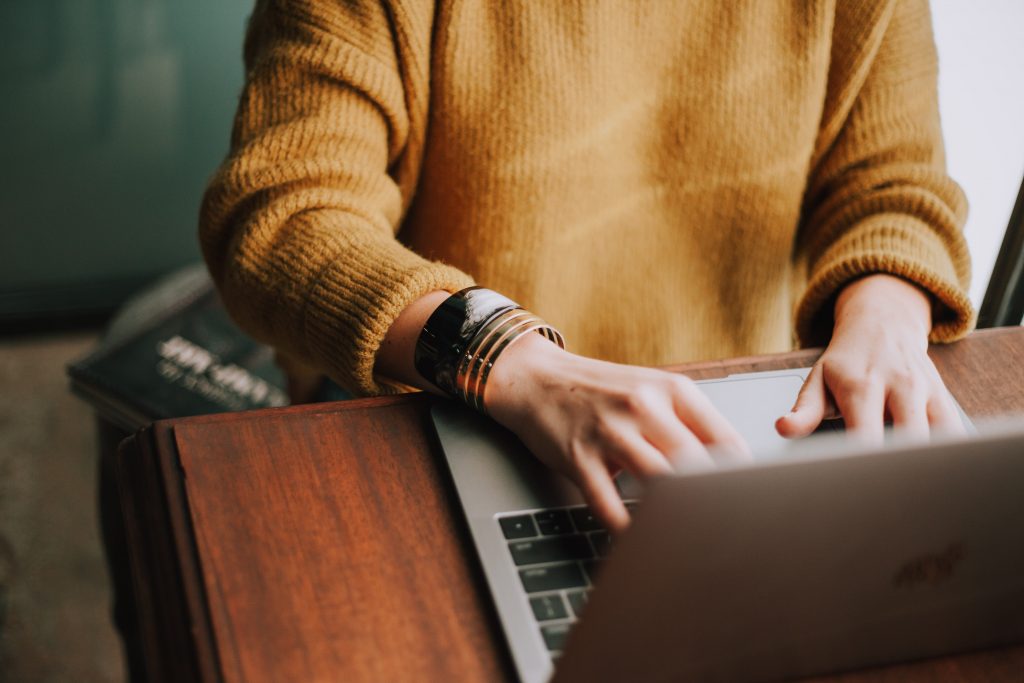 5 | Online learning practices real-life online skills in our societies.
One undeniable truth is how much of our lives actually takes place online. We connect with each other on social media. We do daily transactions, like shopping and banking online. Our global markets increasingly rely on online platforms to interact and sustain business and policy. So why are we so often focused on in-person university courses only? Adapting and changing for modern living, courses like ours that utilize online instruction, materials, and assessment replicate real-life tasks that we do outside of school, using the language, processes, and platforms that work for the context. Learning online gives you the opportunity to practice these types of skills in ways that in-person online does not.
Tyson Seburn is the Assistant Academic Director at the International Program and played a key role in transitioning the International Foundation Program to an online platform during the pandemic for over 200 students. As part of the English language teaching community, his focus is on public spaces for exploring teacher identity and development.
For Tyson's full bio, check out our Staff Page